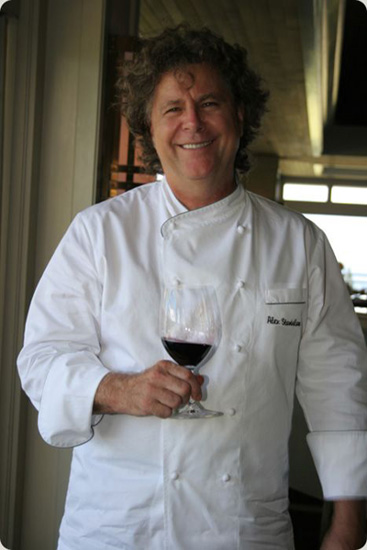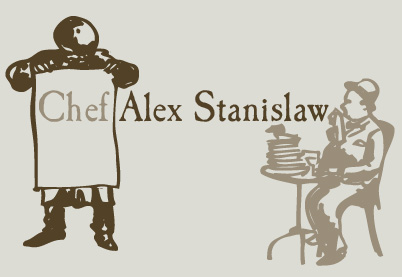 Who would have figured that an East Coast "Rebel Without a Sauce" would end up jumping across an entire continent and landing in the middle of the Pacific Ocean, and indeed, find meaning in the depths of a saucepan? To begin at the beginning, Chef Alex Stanislaw was born on Long Island and raised in upstate New York. At an early age, he gravitated to the kitchen of his grandmother on Long island, a space he found as intriguing as he found comforting. The lessons he learned from his grandmother's kitchen stay with him today. "She was the original slow cook. She slow-cooked braises, made stock from scratch and rolled her own pasta. She bargained with the butcher; she shopped locally, thoughtfully, and seasonally. She was my first real chef."
The journey from his grandmother's kitchen to Maui's kitchens took a path that didn't originally include culinary aspirations. In the 1970s, he studied political philosophy and cinematography at Syracuse University. However, a move to Virginia Beach and a job cooking at a well-known country club brought about the realization that he really did love to cook. The next step along the path was enrollment at the prestigious Culinary Institute of America in Hyde Park, New York. Stanislaw graduated with honors in 1980 and was immediately recruited by Rock Resorts for a culinary position at Kapalua Bay Hotel on Maui.
Not only did cooking agree with Chef Stanislaw, but so did Maui. His love of seafood was more than rewarded by the diversity and abundance of Hawaiian fish. With a career that has spanned more than three decades on Maui, Stanislaw has evolved a style of cooking that blends the clean, fresh flavors of the ocean with the rustic simplicity of warm weather cuisines. Following Kapalua Bay Hotel, he had the opportunity to work as Executive Chef at Erik's Seafood Grotto in Kahana for seven years, where long-lasting relationships with local fishermen and farmers began. These relationships were strengthened when Stanislaw became part of a four-member team that opened up The Plantation House Restaurant at Kapalua in 1991, and remained steadfast when he took over the kitchen at Kahana Grill 21 years later. One of the core lessons that Chef Stanislaw learned during his many years as a Maui chef was the importance of developing close relationships with the community that grows and fishes and farms your ingredients. He carries this lesson with him through every culinary venture on Maui, for as his grandmother taught him, "This is what makes a meal."